New info: The great Climate Change debate – see Penny Wong's response to Steve Fielding's Questions and scientists assessment
____________________________________________________________
The meetings are held at: MOUNT WAVERLEY COMMUNITY CENTRE First Tuesday Monthly. ( Nearest the main road on the East end – the craft room)


Association for Climate Technology Solutions
Please make sure that your log in details and email address details are correct, we are experiencing a lot of undeliverable mail so please check. Please contact Ian or Kendall, Peter or Cameron for help.
New members please register your details on the Climtech site to ensure that you receive the news and updates.
The new site is working excellently and invite you to post your experiences in the forum or main web area. Send pdf files and major articles to nutech@tpg.com if you need assistance to upload.
___________________________________________________________________________________________
Next Meeting: TUESDAY July 7th
Address details – Please note
MOUNT WAVERLEY COMMUNITY CENTRE
(CNR OR STEPHENSONS RD AND MILLER CRES)
"The Craft room at the East end nearest the main road"
47 MILLER CRESENT
MOUNT WAVERLEY
VIC 3149
Doors open at 7.00pm for a 7.30 commencement.

Start Time: 7:30
End Time: 10.45 pm (Hall vacated by 11:00pm)
Entry:
$5:00 Members,

$10.00 Non Members

New Member – $30 – First Entry Free
__________________________AGENDA______________________________
Welcome to the July News Letter and agenda.

Topics for discussion:
Wayne:

Two meetings ago we were intrigued with the new Joe Cell that Wayne showed us and claimed some very good mileage improvements. Since that time Wayne has reported a consistent mileage improvement on his daily runs ranging from 80% to 100% which is great news. Wayne will be back with an update on his progress at this meeting and will have the bonnet open for cell gazers. Others are now up to testing a similar installation so it will be interesting to see if we can get the consistency in reliability.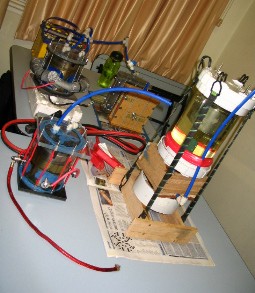 PETER CAMPBELL: Peter has a ten minute report to submit to the
meeting and we look forward to his further enlightenment.

Peter works at the CSIRO and has access to a huge amount of knowledge so please feel free to ask questions on what the CSIRO are up to. There is always interesting stuff going on.

Cameron has some more to report on his latest HOH developments and open source sponsorship.Some great concepts to discuss for anyone wanting to raise capital for development projects.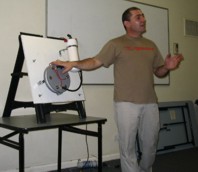 Ian will also have some info on base line testing which has now commenced.see initial tests

INVITED GUEST SPEAKER – Mr Charles McRae is off to WA so wont be able to address this meeting but we will keep him on the agenda until he is able to come.
He will share some of his experience with his long career in high mileage fuel systems. He has achieved the best mileage I have ever seen with his cold vapourizer which achieved 63 mpg in a 5 litre V8 F350 ute. He has also experimented extensively with HOH and Super heated steam injection and you will be astounded with the result.
Charles is a truck mechanic by trade and has a lot of knowledge on big trucks and their fuel systems and also may be of great assistance in understanding how to set up a Hybrid fuel system with HOH etc.

GOOD NEWS – Dave has been discharged from the Royal Talbot and will be on deck this week. Welcome back Dave.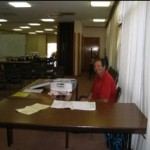 If you have a dvd or video (on topic) that you would like to donate to the library then please see Dave at the door.
**Please bring your pet projects for display and enjoy the communion of other like minded experimenter's.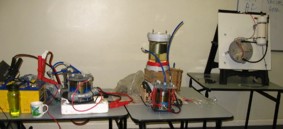 Ian Hacon…Secretary nutech@tpg.com.au
If you would like to contribute to the meeting for a segment presentation please contact
Cameron 90388546 (Engin) or Ian on 90176123 (Engin) or 94572814
Guests Welcome!