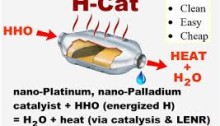 As mentioned in previous postings, there appears to be some basic requirements for getting Cold Fusion/LENR working; that being:
1) Hydrogen, or mainly hydrogen nuclei – protons, or proton/neutron pairs (deuterium)
2) A metal lattice which the hydrogen is then loaded into, preferably to saturation. Pons/Fleischmann used expensive materials like Platinum/Palladium, whereas current researchers are using cheaper Nickel. If the metal is comprised of very small particles, which massively increases the surface area and hence the speed of loaded Hydrogen and probably the speed of reaction, so much the better.
3) Pulses of energy to get the hydrogen nuclei close enough together that they fuse into helium (possibly with electrons being captured by protons to turn them into neutrons – electro-weak capture – along the way).
Turns out we might be able to do something like this in the comfort of our own home.