Venue – Alvie Hall
Corner of High Street Road and Alvie Road
Mt Waverley, Victoria. 3149
_____________________________________________________________________________
Association for Climate Technology Solutions
All members and Associates – please register your details on the CTS site to ensure that you receive the news and updates.The Web Site is for anyone, anywhere to use and share your insights.
______________________________________________________________________________
Doors open at 7.00pm for a 7.30 commencement.
Start Time: 7:30 End Time: 10.45 pm (Hall vacated by 11:00pm)
Entry: $8:00 Members $5.00 Concession Members
Guests free for first meeting if accompanied by a Member
$12.00 Non Members $10.00 Non Members Concession
Annual Membership – $30 – $15 Concession – includes First Entry Free
______________________AGENDA______________________
Welcome to the last meeting for the year 2010 – agenda
Everyone is welcome to have a say and present any updated info on your pet projects or topics.
-Tom Watson has been very active with the mighty sword,ie:the written word and will give a report on his latest Climate Change findings. Without doubt, the heavens have opened up with a vengeance in many places around the world. I am sure Tom can give some clarity on the how and why this has happened if you missed his recent lecture. Julia is promising to Tax us so we need to get armed with the right sort of information to stop this 'dark age' madness. 
 – We enjoyed the inspiration of John Bennett's lecture at the November meeting and 2011 looks like being an exciting year as we attempt to get our hands dirty building a small Natural gas engine to power the home etc, and working our way up to a Bennett Special. We will talk about that as we develop the projects for next year. I am proposing a series of lectures from John to deal with specific aspects of engine rebuilding as we get into the practical application our selves.
-I have another project proposal that may be useful in powering a home and we can take a look at that as well.
-Dan Winter will be here early next year and in collaboration, CTS and ASTRO will organise at least two meetings around mid February and late March. Dan has a profound knowledge on so many topics and especially the disassociation of Hydrogen. We will play some of his lecture to get you familiar with his terminology and you can do a lot  more home work by watching numerous you tube lectures. However I know apathy rules so we will play a segment at the meeting which I am sure you will find fascinating. 
Plus lots more on water fuel success we are watching very closely…
Its party time so enjoy….
____________________________________________________________
Here is some vital info from Tom Watson. Please pass it on and study it.
Please pass this on as a message to combat Climate Change
1.   There is no scientifically valid mechanism for CO2 causing global warming.
<http://debatewise.org/debates/455-co2-does-not-cause-global-warming#point_1850_headline>
2.     Global temperatures have always been changing despite CO2 increases
<http://debatewise.org/debates/455-co2-does-not-cause-global-warming#point_1851_headline>
3.   The 'Global warming' phenomenon could be caused by other things
<http://debatewise.org/debates/455-co2-does-not-cause-global-warming#point_1852_headline>
4.   CO2 does not hold in heat!
<http://debatewise.org/debates/455-co2-does-not-cause-global-warming#point_1853_headline>
5.     Oceans regulate the amount of CO2 in the air through absorption equilibrium
<http://debatewise.org/debates/455-co2-does-not-cause-global-warming#point_1854_headline>
6.     Measurements are inaccurate
<http://debatewise.org/debates/455-co2-does-not-cause-global-warming#point_1855_headline>
7    There is no scientifically valid mechanism for CO2 causing global warming.      Carbon Dioxide absorbs all radiation available to it in about ten meters. More CO2 only shortens the distance, which is not an increase in temperature. In other words, the first 20% of the CO2 in the air does most of what CO2 does, and it doesn't do much.
8    CO2 does not hold in heat!
9    The public is being misled through propaganda to assume CO2 is like a sheet of plastic holding in heat. CO2 can only absorb 8% of radiation frequencies available (No one disputes this.), and only about 1% of the heat leave the earth as radiation–the other 99% being conduction, convection and evaporation. NASA says it's 41%, not 1%, but there is no agreement, and night vision equipment shows there is very little infrared radiation given off by normal temperature matter. Oceans regulate the amount of CO2 in the air through absorption equilibrium.
10     Equilibrium is rapid and total as indicated by many sources of evidence.  One, the graph for CO2 in the air is an extremely precise line. If nothing were regulating, it would vary wildly.  Two, if equilibrium were not established, oceans would be absorbing or losing CO2 at a high rate, yet no detectable change occurs beyond the stab in the dark guess that it might have dropped 0.15 pH units over the past century. www.nov55.com
11     Measurements are inaccurate
12     Temperature readings from reporting stations outside the U.S. are poorly maintained and staffed and probably inaccurate; those in the U.S., which are probably more accurate, show little or no warming trend.
(See http://wattsupwiththat.wordpress.com/ for more information)
13     Temperature readings taken by terrestrial reporting stations are rising because they are increasingly surrounded by roads and buildings which hold heat, the "urban heat island" effect; methods used to control for this effect fail to reduce temperatures enough to offset it; See Anthony Watt's "How not to measure temperature series" at http://wattsupwiththat.wordpress.com/2008/07/07/how-not-to-measure-temperature-part-66/
14     Sufficient data exist to measure changes in mass for only 79 of the 160,000 glaciers in the world
15     Computer simulations are not real-world data and cannot be relied on to produce reliable forecasts. Data is usually inputted by persons looking for      specific outcomes. See http://www.landshape.org/enm/ for more information.
16   The adverse economic effect of taxing carbon dioxide production in an effort to control "CO2-induced" global warming will be substantial. Poverty will be      created and wealth will be destroyed. Nothing is worse for the environment than poverty. People in poverty don't care a whit for the environment; they just want to feed their children. Examples of this throughout the world, and in cities everywhere, are abundant. Environmental protection is considered an unaffordable luxury when people are poor. With the global economy on a knife-edge, it is no time to hold back, we should all be fighting against those who are incapable of recognizing that the cause-effect order is not established for CO2 and temperature..Indeed, the DATA themselves more strongly support that CO2 rises occur as a result of temperature increases, and that our addition to CO2 in the atmosphere will have no effect at all that is predictable from the previous data.
17   An idea isn't validated by how many scientists accept it, but by the veracity of the evidence supporting it.  It is perfectly possible for many scientists who accept or reject the theory to be wrong.
18     Consider      10,000 atoms of Atmosphere.
     a         9,600 OF THESE ATOMS IS WATER VAPOUR AND H2O
     b            400 ARE ALL THE OTHER GASSES WITHIN OUR ATMOSPHERE, ONLY
                     4 ARE CARBON DIOXIDE.
THIS IS THE REALITY BOUGHT OUT TO ITS SIMPLISTIC REASONING OF HOW WELL WE ALL HAVE BEEN HAD.
What are you prepared to do about this injustice to our WORLD?
Thankyou…Tom Watson
**********************************************************************************************************
https://sites.google.com/a/cts.asn.au/how-to-become-a-member/ 
Cameron has been very busy setting up the new GOOGLE CLOUD applications where we as members can collaborate and interact. Each member will have full control of their section and you can set up your own web site. Determine who has access to it and all the information posted, small groups, big groups or everyone, with military security….these days that may not mean all that much… Here we deal in terabytes and we can load up all our video and file information. It offers us a fantastic tool to expand the work of the Association and also gives us a method to raise funds and coordinate projects which is the core reason for our existence.
Uploaded Videos.
CTS AUGUST 2010– Shaun Rigney: Hydrogen on Demand Technology. Shaun Rigney has combined passion for cars, engines and clean air. Here he gives a detailed description of how he intends to develop his ON BOARD HOH FUEL SYSTEM. He is an expert in fuel management technology and has developed unique fuel injection mods that give better performance and efficiency. This was a brilliant talk and we as an association hope to be involved and supportive of this development as it 'moves forward'…
MYSTERIES 911– THE DEMOLITION OF THE WTC
This DVD is the most convincing on a technical level that the 9-11 event must have been an inside job. If you still believe the official story this is must viewing.
GLOBAL WARMING – DOOMSDAY CALLED OFF – Takes a look at the evidence for global warming and is found wanting….
COMMUNITY LAW RESOURCE GROUP
Darryl O'Bryan is a committee member of the Climate Technology Association and for some years has specialized in CONSTITUTIONAL LAW. He explains your rights and the many illegal aspects of our current court, police and government systems and how you can defend your fundamental rights as laid out in the Constitution. Speeding fines are a real issue that you may want to know about.…
ASTRO AUGUST 2010– Melbourne
Professor Ian Bates retired presents his modified Solar Panel technology which produces four times the out put in energy.…
Ian had previously presented his technology at the CTS forum. This lecture has more recent updated information and detailed discussion.
CTS APRIL MEETING 2010 – Featuring Cameron Ashton and John Campbell from the Gippsland Energy
LOTS MORE TO COME.
– YOU CAN UPLOAD YOUR VIDEO MATERIAL , UPLOAD DOCUMENTS, BUILD YOUR OWN WEB SITE, HAVE YOUR OWN EMAIL eg. ian@cts.asn.au, PRESENT YOUR PROJECT REPORTS, ACTUALLY TYPE ON THE SAME PAGE TOGETHER WITH SOME ONE ELSE AT THE SAME TIME AND MUCH MORE…
see Cameron for more details and how to join up.
Cameron Ashton cameron@cts.asn.au
*********************************************************************************************
**Please bring your pet projects for display and enjoy the communion of other like minded experimenters.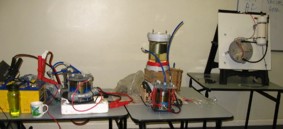 CONTACT US
Secretary: Ian Hacon  90176123 (Engin) or 94572814
Vice President: Cameron Ashton: cameron@cts(dot)asn(dot)au
If you would like to contribute to the meeting for a segment presentation please contact the Secretary
Guests Welcome!