FINAL LECTURE in a series of Three Lectures by Dan Winter
– Lecture three: Astro and Climtech  –  This  Sunday March 27     2.30pm
In Lectures 1 and 2 Dan has described: Fractal Solutions to Life Force and Growth Demonstrated
1. Fractal Agriculture: Implosion Science    <TheImploder.com>
Fractal Architecture- Building for Life Force Using Fractality:
www.goldenmean.info/architecture
In this lecture- he will add:
Fractality Demonstrated: Immune Health and Biofeedback:
The Fractal Heart and Fractal Brain.. how it is measured in EKG and EEG:
Dan will demonstrate his heart and brain biofeedback inventions:
HeartTuner and BlissTuner
www.goldenmean.info/hearttunerspecial
"The Healthy Heart is a Fractal Heart": This is a musical recipe you can apply- it is related to learning the discipline and joy of 'coherent emotion'.
Venue: Balwyn Community Centre, 412 Whitehorse Rd, Surrey Hills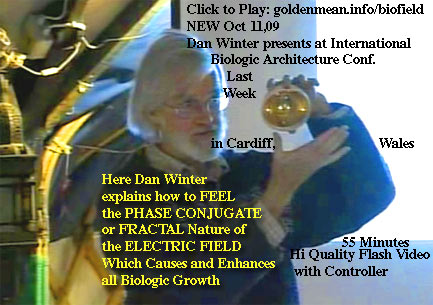 ______________________________________________
DVD's are available for lectures one and two
ORDER FROM: nutech@tpg.com.au     03 94572814
______________________________________________
– Lecture one: Climtech Solutions  –  Tues Feb 1      7.30pm
Fractal and golden mean basics 101.  Discussion on nitty gritty non linear energy systems and more.
Venue: Alvie Hall
– Lecture two: ASTRO and Climtech  –  Fri Feb 11        7.30pm
Venue: Balwyn Community Centre, 412 Whitehorse Rd, Surrey Hills ( This hall can hold over 100 people so please invite all who are interested in these breakthrough technologies)
Fractality-Phase Conjugation and Golden Ratio – Source of all Centripetal, Implosive, Self -Organising and Life Giving Forces. Alchemy and much more
TOPICS  PRESENTED
Fractality-Phase Conjugation and Golden Ratio-
Source of all Centripetal, Implosive, Self Organizing and Life Giving Forces
(web reference:
www.goldenmean.info/selforganization
– and clearly the principle for the frequency key signature to all non linear energy technologies. ie: where the out put energy is non linear to the input energy.
– Spirituality and science converge precisely in the physics of Fractality and Centripetal Implosion.
– We present the scientific evidence that: the way Golden Ratio creates recursive constructive wave interference is the reason and mechanism for the existence of:
– gravity –
-perception
-life force
-color
-human bliss
We conclude with suggestions about a hygiene to take memory thru death- based upon the physics for how aura/ plasma is fed… including the physics of human bliss: THE fractal attractor which is the ultimate source/media of all biologic information (living charge compression) and therefore the ultimate form of education.
Here are some web sites where you can tap into the vast resources of knowledge that Dan has to offer
www.goldenmean.info
www.fractalfield.com
www.pyraphi.com
www.Breakthru-Technologies.com
Implosion and Breakthru's in Agriculture:
www.theimploder.com
www.fractalfield.com/implodernews
Bioactive Fields in Agriculture:
Research summaries from Dan Winter
http://fractalfield.com/bloomthedesert/FractalFieldResearch.html
1. Biologic Architecture and Agriculture:
www.goldenmean.info/architecture
– TIME PERMITTING WE HOPE TO HAVE OTHER UPDATES ON THE TECHNOLOGY FRONT
– PLEASE INVITE YOUR FRIENDS FOR THIS VERY SPECIAL PRESENTATION
**********************************************************************************************************
https://sites.google.com/a/cts.asn.au/how-to-become-a-member/
Cameron has been very busy setting up the new GOOGLE CLOUD applications where we as members can collaborate and interact. Each member will have full control of their section and you can set up your own web site. Determine who has access to it and all the information posted, small groups, big groups or everyone, with military security….these days that may not mean all that much… Here we deal in terabytes and we can load up all our video and file information. It offers us a fantastic tool to expand the work of the Association and also gives us a method to raise funds and coordinate projects which is the core reason for our existence.
Uploaded Videos.
CTS February – Dan Winter lecture one of a series of three in collaboration with ASTRO. Focus on Energy and Hydrogen as well as laying the ground work on Fractal, Goldenmean Ratio and many other subjects dear to Dan's heart. A brilliant lecture.
Melbourne nexus – Dr David Jubb –David is a wonderful and profound speaker and lead American Indian Rituals for 30+ years. He has many credentials and specializes in 'whole brain function' and 'Colloids' the building blocks of the cells. This is just the beginning of a great journey as there is so much more to learn. Enjoy
CTS AUGUST 2010– Shaun Rigney: Hydrogen on Demand Technology. Shaun Rigney has combined passion for cars, engines and clean air. Here he gives a detailed description of how he intends to develop his ON BOARD HOH FUEL SYSTEM. He is an expert in fuel management technology and has developed unique fuel injection mods that give better performance and efficiency. This was a brilliant talk and we as an association hope to be involved and supportive of this development as it 'moves forward'…
MYSTERIES 911– THE DEMOLITION OF THE WTC
This DVD is the most convincing on a technical level that the 9-11 event must have been an inside job. If you still believe the official story this is must viewing.
GLOBAL WARMING – DOOMSDAY CALLED OFF – Takes a look at the evidence for global warming and is found wanting….
COMMUNITY LAW RESOURCE GROUP
Darryl O'Bryan is a committee member of the Climate Technology Association and for some years has specialized in CONSTITUTIONAL LAW. He explains your rights and the many illegal aspects of our current court, police and government systems and how you can defend your fundamental rights as laid out in the Constitution. Speeding fines are a real issue that you may want to know about.…
ASTRO AUGUST 2010– Melbourne
Professor Ian Bates retired presents his modified Solar Panel technology which produces four times the out put in energy.…
Ian had previously presented his technology at the CTS forum. This lecture has more recent updated information and detailed discussion.
CTS APRIL MEETING 2010 – Featuring Cameron Ashton and John Campbell from the Gippsland Energy
LOTS MORE TO COME.
– YOU CAN UPLOAD YOUR VIDEO MATERIAL , UPLOAD DOCUMENTS, BUILD YOUR OWN WEB SITE, HAVE YOUR OWN EMAIL eg. ian@cts.asn.au, PRESENT YOUR PROJECT REPORTS, ACTUALLY TYPE ON THE SAME PAGE TOGETHER WITH SOME ONE ELSE AT THE SAME TIME AND MUCH MORE…
see Cameron for more details and how to join up.
Cameron Ashton cameron@cts.asn.au
*********************************************************************************************