The meetings are held at: MOUNT WAVERLEY COMMUNITY CENTRE First Tuesday Monthly

Association for Climate Technology Solutions
Please register your details on the new site as we do not have a data base. It is your responsibility to manage your registration as you need a user name and pass word. You need to contact Ian or Kendall to have your status registered as Author so that you can post files and material. ___________________________________________________________________________________________
Next Meeting: TUESDAY May 5th
Address details – Please note
MOUNT WAVERLEY COMMUNITY CENTRE
(CNR OR STEPHENSONS RD AND MILLER CRES)
47 MILLER CRESENT
MOUNT WAVERLEY
VIC 3149
Doors open at 7.00pm for a 7.30 commencement.

Start Time: 7:30
End Time: 10.45 pm (Hall vacated by 11:00pm)
Entry:
$5:00 Members,

$10.00 Non Members

New Member – $30 – First Entry Free
__________________________AGENDA______________________________
Welcome to the May News Letter and agenda. We apologise the Web site is down so I am using another server until that is fixed. Please pass the word around.
From the Chairman.
Many members has been asking for us to keep a tighter rain on the meetings, as many presentations have been spilling over time, impacting on others who have something important to share. From this month, ad hoc presentations, where time permits will be limited to 30 minutes, with a 20 minute reminder, leaving 10 minutes for wrapping up or getting to the point or even some question time. If ad hoc presenter requires more time, and if there is more available, then this may be made available by consensus or carried over to the next meeting.
Topic for discussion:
Detailed review of the commercial prototype of the HOH Cell. (technical and functional)- Cameron
Welcome back Wayne: You might remember in the early days of the association we were enthralled with Wayne's old Ford which had been fitted out with many a marvellous cell and his many cell constructs which he brought along to show. Well, Wayne has returned for the wilderness and he will be along to show his latest cell developments which I am sure you will enjoy.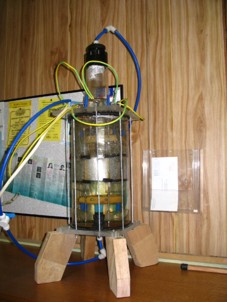 This was one of Wayne's great experimental wonders.'The Rocket Cell'
**AMAZING SUSTAINABLE HOUSING -THINKING OUTSIDE THE SQUARE AND ACHIEVING ALMOST ZERO UTILITY BILLS EVEN WITH SUB ZERO TEMPERATURES OUT SIDE AND GROWING YOUR FOOD INSIDE. A completely integrated living environment in the harshest of conditions. Some folk may have heard of the GARBAGE WARRIER. We will present an excerpt from the 88minute dvd and if you find the material inspirational, copies will be available. If you know anyone contemplating building a house, please invite them along for a much bigger picture.
GLOBAL WARMING OR GLOBAL COOLING? – Heaven & Earth by Professor Plimer is selling like hot cakes and worthy of attention. He was featured on the recent ABC Radio National's 'COUNTERPOINT' so please have a listen. Excerpts will be presented and we invite your opinions on the Forum when it is restored.
PETER CAMPBELL: Peter has updated his summary on magnetic effects, and has also written a new summary discussing the physical limitations on what sort of fuel economy a car can actually reach and why it doesn't, which he'll be chatting a bit about. Also, assuming he isn't blown up on the previous Sunday experimenting, he shall be demonstrating a new slant on an old way of generating hydrogen from common materials at room temperature.
THE GREEN FLEET RACE: Time is running out as the year races on so it is now or next time (2 years) if we wish to enter the race in about October. To do that we will have to materialize a vehicle that will run on next to nothing, Typically 2 litres per 100km. I will commence work on the Corolla KE70 1.3 Litres. This should be a likely candidate as it already does 30 mpg. We have a fuel vaporiser that achieved 63mpg on a F350-351 Ford V8 so progress is now being made in getting all the bits together. Combining the vaporiser with HOH and j-Max technology and perhaps the Plasma Spark System should get a good result. We will need sponsorship to enter so it is time to discuss possibilities. I will show a clip of the unit in action. See Ian 94572814
INVITATION: If you have something you would like to share please see Ian or Cameron so that we can Plan to make time for you but we can always allow at least 10 min on the evening subject to how full the agenda is. Your contribution is most welcome and most valued.
**DVD LIBRARY – All those who borrowed DVD's at the last meeting or LAST YEAR are reminded to return them. We ask that you be conscientious to make sure they get back in time so that others can share in this valuable resource.
If you have a dvd or video (on topic) that you would like to donate to the library then please see Ian at the door. David is in Hospital recovering from an amputation which is sad news.
**Please bring your pet projects for display and enjoy the communion of other like minded experimenter's.
Ian Hacon…Secretary nutech@tpg.com.au
If you would like to contribute to the meeting for a segment presentation please contact
Cameron 90388546 (Engin) or Ian on 90176123 (Engin) or 94572814
Guests Welcome!